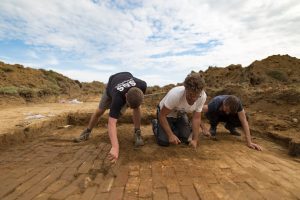 (IGI Global, 2020)
The Contribution of Archaeology to WWI Commemoration in Flanders
When the First World War ended, the landscape had been transformed into a wasteland. Later, the population faced the challenge of rebuilding the region. Many traces of the war were then wiped out. Everywhere, the archaeological remains are slumbering in the soil, barely 30 cm deep and invisible to the visitors. It took a while before the remains of the war have been considered as archaeological heritage. It was not until 2002-2004 that professional archaeologists in Belgium began to show an interest in this special heritage. Since then, the importance of this archaeology has only increased and today it is part
of mainstream archaeological research. Several initiatives built on the successful first commemorative year 2014 in Belgium, with record numbers of visitors in the Westhoek. During the commemorations, various archaeological projects were put in the spotlight and were picked up with great interest from the public. This chapter highlights a series of high-profile initiatives that shaped specific parts of the remembrance of the First World War in Belgium.
Reference:
Stichelbaut, B., J. Bourgeois, G. De Mulder, S. Verdegem and W. Gheyle (2020) The Contribution of Archaeology to WWI Commemoration in Flanders. In Enrico, P. (ed.), Developing Effective Communication Skills in Archaeology (pp. 154-182). Hershey, PA, USA: IGI Global.